24 September 2014 - Asian Agri is reinforcing its commitment towards responsible and sustainable palm oil production by signing the Indonesia Palm Oil Pledge along with three other major palm oil producers and the Indonesian Chamber of Commerce and Industry (KADIN). The pledge signing is expected to be witnessed by Indonesia President Susilo Bambang Yudhoyono at the side of the United Nations Climate Summit 2014 in New York this week.
The "Indonesia Palm Oil Pledge" which is aimed at strengthening the palm oil industry's commitments to sustainability, commits Asian Agri to the adoption and promotion of sustainable palm oil production practices, as well as the improvement of smallholder productivity and community participation in palm oil production.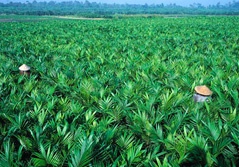 Mr. Joseph Oetomo, Chairman of Asian Agri : "This is a significant collaborative effort amongst the leading palm oil companies. Asian Agri has always supported and practised responsible and sustainable palm oil production. This collective commitment towards the Indonesia Palm Oil Pledge will take us to another level of our sustainability journey, and ultimately optimise benefits for the environment, people and economy. We register our appreciation to KADIN for initiating and leading this effort."
Asian Agri falls under the corporate umbrella of RGE Group, the $15 billion global agribusiness and forestry products company founded by Indonesian businessman Sukanto Tanoto. The plasma smallholders program is implemented as part of his company's efforts to practice good corporate stewardship by working directly with small farmers in the Riau area.
As the largest smallholder certified plantation company in Indonesia, Asian Agri has partnered 29,000 smallholders to help them establish and better manage their plantation operations for over 25 years. More recently, Asian Agri has actively encouraged and assisted these smallholder farming communities to obtain sustainable palm oil certifications, so that there will be international market acceptance of their produce and, consequently, their livelihoods will be enhanced.