Doing what is good for community and country is not a single stakeholder effort. APRIL Group has engaged various communities, NGOs and state bodies to champion a community-focused fire prevention initiative called the Fire-Free Village Programme (FFVP).
The FFVP has seen concrete results. As participating villages receive education, assistance and incentives, there was an overall decrease in fires.
Collaboration continues to play an important role in APRIL Group's approach to raising the living standards and improving the well-being of communities within and around its area of operations.
This is the common thread that runs through all the RGE-managed business groups. Its business groups have shown how close and fruitful partnership with communities can improve social capital, which in turn create shared value for all stakeholders.
RGE Chairman Sukanto Tanoto's business principles of "doing good for community and country before achieving what is good for the company" are no mere slogans, but entrenched values concretised into action to establish long-term benefits at the private, public, government and national levels.
More on the FFVP at Inside RGE.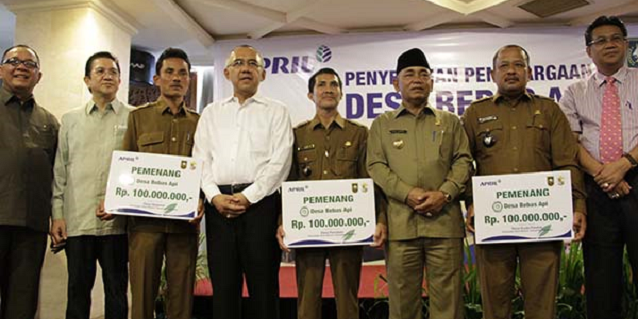 (above: Villages, government and company all stand proud at the overall improvement of fire prevention and management in the Riau.