The dipping temperatures and the arrival of the northeast monsoon heralds the start of the flu season in Riau, where Asian Agri partners plasma farmers to cultivate about 35,000 hectares of its 160,000 ha of oil palms.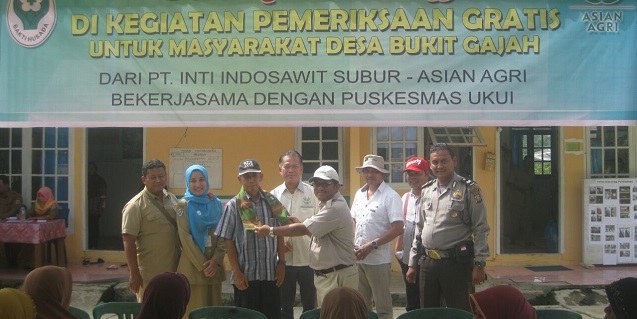 To help its smallholders deal with the flu season, PT Inti Indosawit Subur, a subsidiary of Asian Agri, supported the provision of free medical treatment to the oil palm growers in the village of Bukit Gajah, Ukui, Pelalawan district, on November 15, 2016. According to Faisal, General Manager of PT Inti Indosawit Subur in Ukui, the free medical treatment is part of the company's corporate social responsibility.
"This activity aims to increase public awareness of the importance of health. We hope the villages found this event helpful, and hopefully with this activity we will be more knowledgeable about the condition of our health, and play an active role in maintaining our own good health," he said. One of the villagers of Bukit Gajah, Roeta (55) expressed relief at the opportunity to receive medical treatment: "I was seeing a doctor and was told that I have high uric acid. The doctor gave me good advice on balancing my meals and also gave me some medication to drink." Meanwhile, Bukit Gajah village secretary Bambang Mujianto was appreciative of PT Inti Indosawit Subur's efforts in supporting the government's public health efforts. "The role of the company to improve the quality of community resources through a free inspection is very much needed," he affirmed.
Asian Agri, part of the RGE group of companies, is one of the leading private companies in Indonesia producing crude palm oil (CPO) since 1979 and employs around 25,000 people today. Since 1987, Asian Agri has been a pioneer of the Indonesian government's Trans-National Government Migration (PIR-Trans) program. Today, the company manages 100,000 Ha of land and partners 29,000 smallholder families in Riau and Jambi who operate 60,000 Ha of palm oil plantation.