Tanoto Foundation, founded by Sukanto Tanoto and Tinah Bingei Tanoto, came up with an excellent and impactful activation campaign at the recent 2018 Asian Games in Jakarta and Palembang. The campaign sought to tie success with progress, champions of today and the champions of tomorrow - the One Gold One Library or #1Emas1Perpustakaan campaign. Held Aug 18 to Sep 2, 2018, the Asian Games not only brought together athletes from many Asian nations for 2 weeks of competition and friendship, but rallied and catalyzed support and action toward a brighter and promising future for Indonesia.
The campaign pledged to renovate one library of a Tanoto Foundation-partnered schools for every one gold earned by Team Indonesia athletes at the Games. Indonesia clinched 31 gold medals at the 2018 Asian Games, and the plans were in motion to renovation.
A nation's pride rests not on the here-and-now successes, but also on the hard work put into preparing the next generation for future successes. Tanoto Foundation has for many decades worked to improve education in rural Indonesia, providing support in areas such as infrastracture, amenities, pedagogy, teaching aids, student support, scholarships and grants. The multi-prong efforts have made waves across many schools in Indonesia, especially those in the areas in which RGE companies operate.
These efforts and achievements are aligned with Sukanto Tanoto's 5C's operating business philosophy of doing what is good for the community, good for the country, good for the climate, and good for the customers, only then will it be good for the company.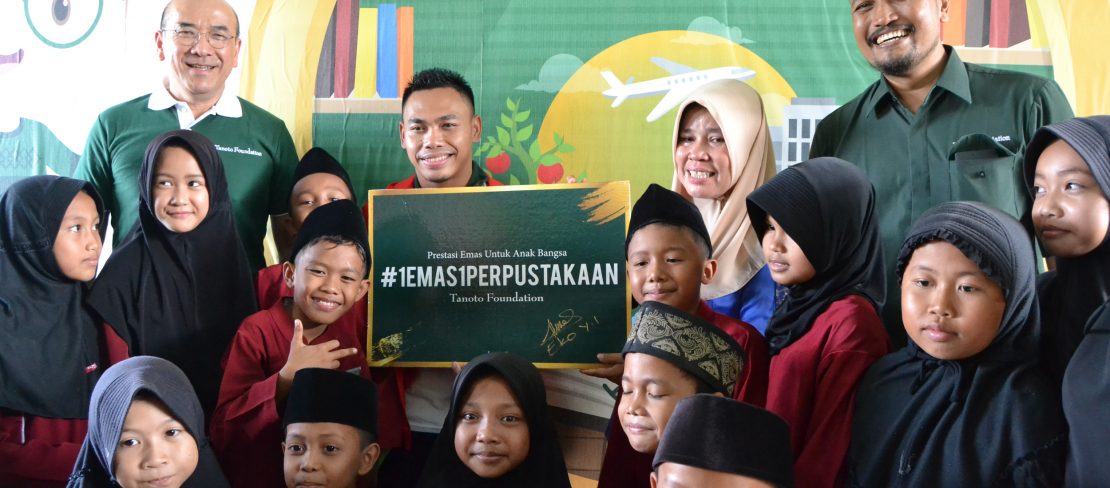 (above: All smiles with Asian Games 2018 weightlifting gold medalist Eko Yuli Irawan, who attended the opening of the library at SDN 011 Sering Barat in Pangkalan Kerinci, Riau in Indonesia on September 22, 2018. Everyone is a winner with better libraries for our children. Source: Tanoto Foundation)