The National Heart Research Institute Singapore (NHRIS) was launched by President Tony Tan at the SingHealth Duke-NUS Scientific Congress 2014, which is a platform to showcase the latest medical developments. This new research institute is a collaboration between the National Heart Centre Singapore and Duke-National University Singapore (NUS), and it will focus on research themes such as blood vessel functions, genetics and metabolic heart diseases.
In conjunction with the launch of NHRIS, Tanoto Foundation gives a donation of S$3 million to advance cardiovascular research efforts, of which S$2.5 million will be used to set up the Tanoto Foundation Professorship in Cardiovascular Medicine and S$500,000 will fund the Tanoto Foundation Initiative for Genetics and Stem Cell Research at NHRIS. The gift will support research in human genetics to identify new ways of diagnosing, stratifying and testing patients with cardiovascular diseases, thereby allowing early prevention for those who are genetically pre-disposed to the disease.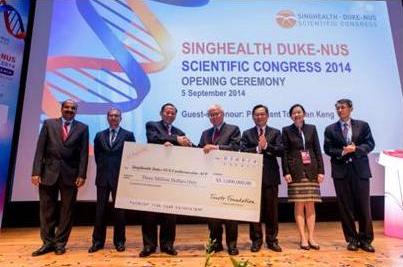 Founder and Chairman of Tanoto Foundation Board of Trustees, Mr Sukanto Tanoto, presented the S$3 million gift cheque to President Tony Tan, who received it in his capacity as Patron for Duke-NUS Development Committee.
Professor Ranga Krishnan, Dean of Duke-NUS said: "We are deeply grateful to the Tanoto Foundation for establishing the Professorship in Cardiovascular Medicine and the Initiative in Genetics and Stem Cell Research. The gift will strengthen Duke-NUS' and SingHealth's joint push in improving clinical care and translational research for better patient outcomes. Today's Congress is a concrete demonstration of our commitment towards the collaboration."
Chairman of Tanoto Foundation Board of Governance, Mr Bey Soo Khiang said: "Tanoto Foundation has, over the years, been a strong supporter of medical research that has the potential to bring about transformative impact to society. We are particularly delighted today to contribute to the advancement of research in cardiovascular medicine for the Asian community, as we believe the breakthrough results will enable healthcare practitioners to address the region's medical needs more effectively, in relation to heart diseases. To this end, Tanoto Foundation hopes to continue to play a positive role in helping to improve the quality of people's lives."
See press release from SingHealth